If I Never Met You by Mhairi McFarlane
🌺🌺🌺.5/5
When her partner over a decade leaves her, Laurie is left reeling. Not just because they work at the same firm—but because he got his new girlfriend pregnant almost immediately, after telling Laurie he didn't want to have kids with her.
Laurie is trying to recover, but it's not until being stuck in an elevator with office-playboy Jamie that she realizes that they have something in common. She needs a way to get out of the pity-rumor mill, and Jamie needs a steady girlfriend so he can vie for a big promotion with the bosses. No one ever said that their relationship needed to be real…
3.5 stars, rounded down.
It definitely got better as it went on, although I wanted an epilogue set one year later since the ending was a bit ehhhhh.
I think that this would have worked a lot better if it had been heavily edited a hundred pages (or more). Laurie and Jamie don't begin their fake-dating until nearly halfway into the book, and before that it's a loooooooong wave of Laurie trying to recover from her ex and his betrayal.
And the fake dating is…bland, although it's one of the most creative uses of the One Bed Trope that I've seen in a long while, and there is no denying that Laurie and Jamie had fantastic chemistry, even if a lot of the humor was missing for me. Perhaps it's because I was anticipating more humor and slapstick comedy instead of a fairly mundane contemporary romance that dealt more with recovering from a long-term relationship that died a slow death than the current fauxmance.
However, I did like Jamie, but mostly for his tyrannical lodger, Margaret, a fat tortoiseshell cat who demanded her own bedroom and a garden, and that is why he was unable to move. And I loved his parents, who were just the loveliest, and the most heart-breaking. And I liked his mercenary use of social media and staged photography.
The one thing I did love was Laurie's realization that the night she met what's-his-face (he doesn't deserve being named in truth) was that she did meet the love of her life. It just wasn't her ex. It was her best friend.
"Look at us in a garden center on a Sunday; we're officially wholesome, middle-aged, and deeply heteronormative," Emily said.
I loved that Laurie's relationship with Emily stayed strong throughout the entire book. A lot of contemporary romances ditch the best girl friend as soon as the love interest waltzes in, but this one didn't—it fully embraced the strong and lasting joy of friendship, and acknowledged that platonic friendships are just as valuable as sexual relationships.
You were equal with these men so long as you didn't make them feel unequal, lesser, challenged. If you stayed in your lane.
I also loved that the book leaned into double standards of women in a male-dominated professional environment. So much of this book—from the whispers, the cock-measuring, the bullshit "protection," the backstabbing of many of the women who had bought into the patriarchy—hit so close to home for me. Which is why the ending really annoyed me.
Crap people you happen to be related to: you need to stop thinking you owe them a limitless number of changes to hurt you.
Yes! Yes! A million times yes! Laurie's father—an absolutely narcissistic disgrace of a meatsack—was one of the reasons why she fell alongside the ex. She was seeking relationships that reflected the level of trauma she had had as a child, because that was what she knew. And she kept giving her dad power over her and power to hurt her, because he was her dad.
Now, if we can only apply this writing off of abusive and manipulative family members to mother-figures, without all of that sappily problematic "but she's your motherrrrr" excuses I see so often (Bad Moms Christmas, I'm looking right at you).
Anywho, that was a much longer review than I intended to write.
There were a lot of great things about this book, and a wealth of emotion, depth and nuance that had me singing. I just wished that it moved a bit quicker, because it was long for no reason, and that the romance was stronger.
I received this ARC from NetGalley for an honest review
If I Never Met You released March 24, 2020, from William Morrow Paperbacks
The Honey-Don't List by Christina Lauren
🌺🌺🌺.5/5
Carey Douglas has worked for Melissa and Rusty Tripp long before they were famous. She stayed with them through ups and downs, and now, when they're at the cusp of megastardom, it seems like they're going to fall apart at last. James McCann was hired as a structural engineer, but he's been delegated to Rusty's assistant and kept far from design work. When the Tripp's marriage disintegrates before the ironic launch of their marriage-advice book, Carey and James are forced to work together to keep the ship sailing—and neither can quit because they both need their jobs.
Can the two work together and keep America's Home-Designing Sweethearts from murdering each other?
3.5 stars
"I live for other people's drama."
That was the one highlight I made in this ARC, and dammit if it's not true. There's a reason I love well-done alternate history royal romances. I love the shade!
And, welp, I'm a sucker for sly jabs at HGTV's most picture-perfect couple, too, and um, this was definitely it. Plus a cute romance among the assistants—shout out the people who really run the world—and some solid disability rep.
All is clearly not well in the state of Home-Renovation at the beginning of the book, which is a wrap for the Tripp's mega-successful show—which was a collaboration with other designers that catapulted the Tripp's to stardom. Carey is reeling from exhaustion and looking forward to taking her first vacation (a staycation) in five years, and is literally counting down the hours before she can escape Melly and go home. James, on the other hand, is trying to figure out where Rusty went, and convinces a reluctant Carey to help him.
And of course, they find Rusty balls-deep in the show's former Miss America co-host, and the shit hits the literal fan—prompting Carey and James to accompany the Tripps on their book launch tour to prevent anything from happening…and well, shit happens. From parking lot screams to vase throwing to frosty stillness to more baseball than anyone should ever healthily consume in a lifetime to a literal house burning down, shit definitely happens.
Melly and Rusty were two people who had once been in love, but who let the fame get to their heads. Melly transformed into a power-hungry demon with the kind of ambition that lets no one else around them succeed—but Melly has a deep, dark secret that is fueling her motivation. And that deep, dark secret is her longtime assistant Carey. And Rusty, of course, is over it and wants to go back to the simpler times—albeit, while still keeping the trucks and jet skis and other toys won through fame—and being his usual goofy self.
If you're thinking…hmmm, picture perfect, highly ambitious and talented woman with A Plan and the goofy, oddball husband with a heart of gold, who both own a saccharinely sweet store with mega-branding (like Comb+Honey)…does that sound like anyone I know in HGTV?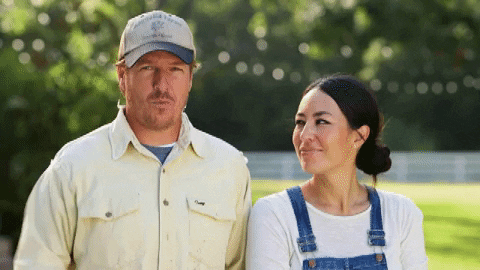 Some people just know that things can't be so perfect, because it's not possible. Some people are me.
I truly felt for Carey, who had started working with the Tripps when she was sixteen. She had had a really bad childhood, and because she literally didn't know any better at the time, she fell into a situation where the Tripps exploited her labor, talent and creativity for their own personal gain, and then continuously emotionally abused her to keep her quiet, pliant and productive.
While Carey realized some of the dysfunctional situation with the Tripps and her relationship with them, she truly didn't understand the extent of their emotional abuse (while Melly is the main perpetrator, Rusty was an enabler and didn't stand up for Carey until the very end) until it was pointed out to her by an outsider.
Because of her small-town roots, lack of education and disability, Carey was kept down by Melly and told that she would only ever be able to work for her because where else could she go? She had no other talents (mild spoiler: she had many talents).
James, on the other hand, was equally entrapped by the Tripps, ensnared by his desperation to get away from the stench of his former employer, which had been famously shut down for doing illegal things. He needed work experience to hide his previous job, and would take literally anything despite his stellar pedigree.
Anywho, all this is to say that there is a lot of personal dynamics happening, and much of it happens in frosty silence in a tour bus that's really too small to handle all of the shit Melly throws at people. I really, truly feel for Joe, the beleaguered assistant hired to shepherd them all through the book launch tour. He went from thinking he'd won the job of a lifetime—ushering the most romantic "opposites attract" couple in home design—to realizing that he'd entered a hellswamp.
I enjoyed the hell of this book up until the very end. Without spoiling it (too much), I was annoyed that justice was not served and that the two people who should literally be on other sides of the country and moving on with their own, separate lives, decided to try to stick it out and refocus on what mattered—saving a marriage.
Look. Divorce is good and sometimes you just gotta leave.
And sometimes you gotta write a snarky book about picture-perfect TV relationships that have a stinky underside.
I received this ARC from NetGalley for an honest review.
The Honey-Don't List released March 24, 2020, from Gallery Books.