A couple days later than I was intending to make this, but it is here. Anywho, in a move that should surprise exactly no one, I'm taking the blog on hiatus until at least January 1, 2023.
The reasons are myriad and not super complex, but I've been having less fun in this space and more fun on my instagram account, and also I've noticed that trying to create 2-3 posts a week on book lists and book reviews takes creative energy away from my writing and also makes reading feel like work. In blogging and reviewing less, I've found that reading is fun again, which means I'm going to hit the brakes a bit more than I already have. I'll still be on instagram (@laurelthereader) and Goodreads.
I do have several writing announcements, none of which are about the sequel of That Distant Dream, which is…in copy editing limbo (I'm trying very hard to keep my frustrations off-line). BUT! The good news!
My fantabulously queer short story, "The Hidden Language of Flowers" got its second publication on September 27th in We're Here: The Best Queer Speculative Fiction of 2021! It was originally published in November 2021 in Misspelled: Magic Gone Awry, edited by the amazing Kelly Lynn Colby.
My short short story "Mommy's Little Helper" was accepted for Apex Magazine's Strange Libations Anthology, featuring dark and creepy cocktail recipes. Mine's a very bitter drink.
And I had two other story acceptances in September and earlier this week for two anthologies. I'm not going to say more until the contracts are signed, but I have published pieces with both places before, I really like the editors I'm working with, and I think these anthologies are going to be really cool.
I feel like social media is a best of highlights reel, which doesn't show the struggles and frustrations and rejections writers face on a daily basis. For me, acceptances seem to be batched in tiny little chunks, while rejection is a constant stream. I'm very fortunate to be able to write and submit for publication, but rejection is very much part of the game. I will say that a kind, personalized rejection is sometimes better than an acceptance…which feels weird until you realize that rejections far and away outweigh the acceptances.
Anywho, to the books I read in September, because this is a book blog!
I read 19 books this month: six books, eleven audiobooks and two graphic novels, for 6,753 pages read and you really don't want to know how many hours listened.
To the books!
🌲🌲🌲🌲🌲
My highlight of September was re-reading the first two books in The Locked Tomb quartet to prepare for the coming of Nona, and I have to say that these books are meant to be experienced back to back to back. So many clues and connections and perhaps I was stretching on some of them but I absolutely became this gif and I have no regrets. Reading these three books along with what felt like everyone else in the bookish universe was so fun—it felt like a community of weird queer folk and I was there for it. I cannot wait for Alecto.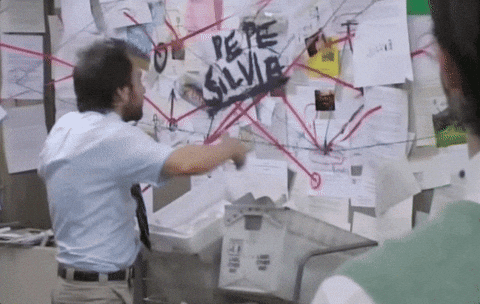 And then I read two books about logging? In August, I read The Hidden Life of Trees, and I'm really enjoying reading books about environmental justice, forests and everything else. Finding the Mother Tree was an exploration on connectivity with a whole lot of memoir, and it was surprisingly very queer and I appreciated that! The Legend of Auntie Po was a form of one of my favorite folk legends, Paul Bunyan, but made Chinese and queer and lovely, and it was such a wonderful look at marginalized voices in the logging industry of the PNW.
My very good friend has been trying to get me to read Sadie pretty much ever since it came out (okay, not that long but it's been several years), and I pushed back a little because I'm not a huge true crime person. Anywho, this book was incredible and I'm kicking myself for not listening to it earlier. I don't feel like this is YA though, due to how the multiple trigger warnings are handled and how the story is narrated, but it was still an absolutely riveting read.
And then my final two five-star reads of the month were the much-hyped On Rotation (lived up to the hype) and In Real Life (by new favorite author Emiko Jean). I adored these, which were all about finding yourself and creating the life you need and not the one expected of you…with a little light romance thrown in there for good measure. They both delved into millennial ennui, and I was there for it.
🌲🌲🌲🌲
Can you believe up until now, I have never read a book by John Green? Nope. Never have, and probably never will unless it's another work of nonfiction, mostly because the synopses of his stories don't appeal to me at all. However, The Anthropocene Reviewed was delightfully weird and educational, and I really enjoyed it. The Facemaker was the other side of the enjoyment coin, where I was educated but also regretted eating anything while listening to the audiobook.
As a former Horse Girl, of course I had to read Ride On, which was about falling kinda out of obsession with horses (while still enjoying the horse-riding community) and also by one of my favorite graphic novelists, Faith Erin Hicks. I really loved this one, which had friendship and humor and tackled the privilege running rampant through the horse-riding community, particularly the show circuit.
After saying I never would, I finally got curious and decided to see what all the fuss was about with The Bromance Book Club, and I was not disappointed. Halfway through this book, I went ahead and put book 2 on hold immediately, and I'm still waiting but cherish the memories of book 1, which was adorable and tackled marriage and celebrity and professional sports. I also read Nobody's Princess by Erica Ridley, because of course I'm going to jump straight into book 3 of a romance trilogy because why not, and it was delightful! I will never not pass up a book about guardswomen and spies, and this delivered.
Because I am a mood reader (can you tell?) I read two thrillers this month. I picked up More Than You'll Ever Know because it was everywhere, had an interesting premise and I wanted to see what all the fuss was about, and it ended up being pretty good! Lots of history of 1980s Mexico, which was fun, and many twists and turns and family dynamics. And of course I read Katherine St John's The Vicious Circle, because it's Katherine St John and also cults.
The Fortunes of Jaded Women was a literary book about family dynamics and generational trauma and curses and the Vietnamese diaspora, and it was very, very good. A book about mothers and daughters and their often fraught relationships, and how easy it is to become estranged and how hard it is reconciling the past with the present. It has a huge cast, but never felt disjointed.
🌲🌲🌲
I'm lumping these three semi- together because they all shared the same flaws, at least, to me they did. The Verifiers and The Nightland Express both had fantastic concepts and poor execution, mostly due to one dimensional characters (who had so much potential). They didn't land for me for various reasons, but they were still enjoyable.
Station Eternity, on the other hand, just didn't really work for me because while I loved the idea of Jessica Fletcher in Space, Mallory felt very much like a woman born in 1960 instead of one born in the 2010s, and that felt…off to me. Plus the beginning was very rough and didn't need to be and there were a lot of minor military things that were wrong which shouldn't annoy me but there were also a lot of minor military things that were very right which made the contrast of the wrong even more stark.
Shorter Reads and Other Media
In addition to reading all those books, I also read Nghi Vo's latest installation of The Singing Hills Cycle, and like Becky Chambers' Monk and Robot series, these novellas are charming and cozy and I love them. Into the Riverlands was no exception—it had all the danger and drama and coze of the first two, in addition to peeling back legends to find the real story.
I re-read most of the Giant Days series. It's one of my favorite comics, and I was heartbroken when it ended but also it had such a great ending. I'm not looking forward to the end, but I am enjoying binging the series as a whole. Esther, Susan and Daisy are my favorites, and watching them go through college and enter adulthood and responsibility and love and heartbreak is like stepping into a warm hug.
In non-bookish stuff, my wife and I watched Thor: Love and Thunder and Hocus Pocus 2, both of which were really good but for different reasons, and carried a lot of nostalgia but also for different reasons. I liked Hocus Pocus 2 better than the latest Thor, however, mostly because of how they handled the deaths of their female characters (don't get me started on how the MCU finally has their female heroes get a movie/moment and then kills them off).
Which leads me to She-Hulk. First off, I love it. I think it's hilarious and poignant, and provides necessary interstitial space in the greater MCU and the non-super world. I also really appreciate how it anticipated the negative reactions it was going to face and leaned into it, which feels very meta—and I love the the fourth-wall breaks and also Tatiana Maslany.
I caught up with podcasts I've been neglecting in September as well. I love You're Wrong About, mostly because Sarah Marshall's voice feels like ASMR to me and also because I love how she approaches history with empathy, humor and context. I also started listening to American Hysteria, because urban legends and moral panics are my jam, particularly as we head into spooky season.
Overall, September was a pretty good month for me, and I hope we all have a cozy fall and winter.
I'll see you all next year.