Top Ten Tuesday was created by The Broke and the Bookish in June of 2010 and was moved to That Artsy Reader Girl in January of 2018. It was born of a love of lists, a love of books, and a desire to bring bookish friends together.
There are so many resources out there for reluctant readers who are children or teenagers, but the ones for adults seem a lot scarcer! Maybe it's because reluctant adult readers seem like a lost cause—their minds are made up, they don't like reading, it's not for them, there are other things they can do to occupy their precious time!
And I get it.
There are so many different hobbies out there, from sports (watching or playing or fancasting) to cosplay to gaming to media to crafting to outdoorsy stuff to well…anything! Not to mention other things that cramp on valuable off time, like children and work and school and family and other obligations that aren't hobbies.
Plus, the thought of dipping into something new can be…really scary! Especially since as wonderful as bookmedia can be, we are rather, well, intimidating. Plus there's the idea of experimentation and finding the right book and the pressure to finish or put down (particularly in this society where quitting is seen as failure instead of redirecting energy into something you enjoy more) and there are so many arguments to stop right there, and I'm not even getting into past prejudices reluctant readers might have heard from family, friends or authority figures in their lives—that X doesn't count as reading or that Y isn't a "quality" genre or worth your time, or having high school/college required reading lists that sapped the love of everything in life away.
However.
Change is scary. Starting something new is scary.
And as a librarian I love working with reluctant readers (which is not as often as you'd think—asking for help is also scary), because it is such a joy to break down those pre-established prejudices and validate reading for joy and reading whatever makes that person happy (happy being entirely subjective). The goal is not to have people reading the right books (whatever the hell that is), but to have them reading period, whatever that means for them.
Also, format might be an issue for folks. Physical books take up space and can be hard to manipulate for those with joint and muscular illnesses/injuries. They also can be hard to read due to small font sizes or cramped/yellowed pages. Ereaders on the other hand, are $$ and a detriment to those wanting to read but not willing or able to pay for a Kindle.
Most everyone (yes, I'm making a huge assumption here) has a smart phone of some sort, though. And there are ways to tap into free audiobooks (adjust play speed, mostly hands free, able to multitask) and ebooks (you can change font size, change the background/brightness, easier to manipulate for long periods of time). A couple weeks ago, I listed a few free places to find books for free in my Top Ten Tuesday: Online Resources post.
Another resource for those intimidated by longer reads: Quick Reads, a resource for people looking for book recommendations for shorter books.
Other resources:
Below are some recommendations for reluctant readers. Of course, my list is entirely subjective, and might not work on reluctant readers because everyone's taste is different, and I went a little overboard because that's me. My goal is to provide a few books that I like to consider Gateway Books, because maybe, just maybe, they'll spark a joy in reading for someone.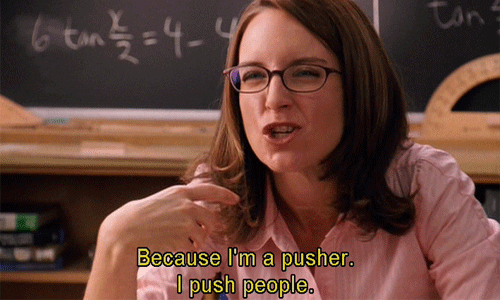 Audiobooks for new listeners
"Oh, I couldn't concentrate" or "No, I'll be too distracted!"
Here's the deal: if you listen to the radio or podcasts or sing along to your favorite band or whatever, you have the ability to listen to audiobooks. Audiobooks=reading. Start slow, maybe read along while listening, and remember you can hit that pause button or backtrack at any time—no judgment!
It can take time to build up listening skills, and also time to find narrators you enjoy listening to. I recommend starting off with audiobooks with a straight narrative and quick storyline—no more than two POVs, few to no flashbacks or fancy shit, fewer than nine hours.
Check out Bookbub's Editor's Picks of The Best Audiobooks for First-Time Listeners, and especially Modern Mrs Darcy's Beginner's Guide to Audibooks
A Man Called Ove by Frederick Backman. A cranky old man finds his life overturned when a boisterous young family moves in next door. This is heartwarming and soul-tugging, although it dips into darker turns. However, it's not only popular but well loved, flip-flopping between tragedy and comedy and an astute look on what it means to live a life fulfilled.
Furiously Happy by Jenny Lawson. This is a funny about about horrible things—just like the subtitle says. In a series of brilliant and fast-paced essays, Jenny Lawson talks about living with depression and a host of other chronic and mental illnesses. I was recommended this book by a friend, laughed so hard I peed myself (while driving to work) and have sense made several other people read it as well. It's hilarious and I don't know if I've read a book that encompasses so many things I feel before.
Hidden Figures by Margot Lee Shetterley. The true story of the Black women employed by NASA as computers—mathematicians deciphering the improbabilities of space travel while combatting the racism within their own country. It's nonfiction that's engaging and well-written, shining a light into a whitewashed part of history. Narrated by Bahni Turpin, one of my favorite narrators.
Dial A For Aunties by Jesse Q Sutanto. After a blind date that goes horribly wrong, Meddelin Chan calls her mother for help—and her mother calls Meddelin's meddleson aunts! All of a sudden, Meddelin is juggling her rambuctious family, catering and photographing an over-the-top wedding on an island resort, struggling to hide a dead body that will not stay put, and bumping into her ex and greatest love! This is a delightful mishmash of romance and cozy mystery, and the everything-but-the-kitchen-sink approach humor will make the hours fly by.
The Hate U Give by Angie Thomas. Everything is going great for Starr—cute boyfriend, good grades—until she goes home from a party with her childhood friend Khalid, and they get pulled over by a cop. Witness to police brutality and a murder that rocks her community to its core, Starr has a choice: stay silent, or stand up? Also narrated by the incomparable Bahni Turpin, this YA contemporary is beloved for good reasons.
A little romance to brighten your life
Be like me, and poo-poo the romance genre for much of your life, and then be like me and actually read one and fall in love. Romance is a fun genre because there are so many genres and so many different levels of heat—literally the only rule in Romance is that there must be an HEA (happily ever after).
I love romance because it's not all fluff and angst and sex scenes and lovey-dovey shit (and it's not just for femmes, either!). Characters can be thrown through the ringer and tackle all sorts of really heavy issues, but they are generally handled (at least in contemporary romance, which is what I primarily read) in a way that tends to have a resolution or at least ends with the character getting a handle on the situation (in addition to the HEA). Romance got me through much of the Plague Years, and I still have so many other subgenres to try!
My list contains mostly contemporary romance, but Reading Women has nine other suggestions from a variety of genres.
The Kiss Quotient by Helen Hoang. Stella Lane thinks math is all you need in life, and she's damn good at it. Unfortunately, she's incredibly inexperienced in other areas of life—and has had a hard time in the dating pool with people who think her Asperger's is a curse instead of a part of her. So she hires an escort to teach her. Michael Phan is more than a good teacher: he's hot, charming, sensitive and attuned to her every whim. Soon both begin having feelings for each other, but it can't be real, right? This was the book that got me into romance and made me go ooooooh I get it now. It's sizzling hot and so damn cute.
Rebel by Beverly Jenkins. Valinda Lacey leaves the relative safety of the North for New Orleans to help the newly emancipated community flourish. But when she arrives, she finds a world of danger and the tantalizing promise of Captain Drake LeVeq. Beverly Jenkins has been a staple in romance for years, and there's a reason she's so popular—she's damn good at what she does!
Red, White and Royal Blue by Casey McQuiston. The son of the first female President of the United States absolutely hates the prince of England—but sparks fly when they are forced to spend time together. This book is fabulously popular, and for good reason: it combines a delicious enemies-to-lovers trope alongside a heartwarming look at what the U.S. could have been, while being filled with delightful secondary characters, political nerdery, found family and family-family, and fan-yourself sex scenes.
The Duke Who Didn't by Courtney Milan. Chloe Fong has a plan, and lists for that plan. She's on the cusp of making it big—a make it or break it scheme to bring her father's famous sauce to the market and lay out the competitor's who fucked him over decades ago. She needs a partner, and a plan—and it arrives in the form of her childhood best friend, Jeremy. Except Jeremy has a secret, and a plan of his own: he's the duke of Lansing, and he needs a wife. Yes, this is a kissing book, and it is a joyous celebration of people of color living in England. Naysayers of historical romance, put down your swords and pick up this book!
Honey Girl by Moran Rogers. When twenty-eight-year-old Grace Porter goes out on a girls' trip to Vegas to celebrate the completion of her PhD in astronomy, she doesn't expect to wake up the next morning married to a cute stranger! Yuki is nothing like Grace expected, and when the two part ways, Grace finds herself thinking about the woman she fake-married. This book is soft and gentle, but slowly stabs you in the back with its incredibly realistic take on millennial burnout, microaggressions in academia (and elsewhere), mental illness and found family. However, so, so many folks have loved this, as it touches a very human part inside all lonely monsters wanting to be found.
For the thriller killers and mystery fans
I should probably have moved this section up higher (too late now, I'm too lazy to move it), but thrillers are one of the best ways to entice reluctant readers. Twists, turns, psychological tension, actual tension, and the song let the bodies hit the floor repeating endlessly as you read. Plus, there are different subgenres and varying levels of scare to thrill everyone from the biggest of scaredy-cats (me) to the bloodiest of true crime podcast bingers. Like romance, there's a little something for everyone in the thriller and mystery sections.
From the Skokie Public Library to Oprah, everyone's enchanted by thrillers, and it's not hard to see why.
Honestly, the hardest part of this was finding five thrillers—there are so many that are popular and bestsellers!
Noodle Shop Mysteries by Vivien Chien. This is one of many books in the cozy mystery genre, which are murder mystery novels generally set in small towns and solved by amateur sleuths who literally stumble across the bodies. This is a super popular subgenre, which has sub-sub genres based around various tropes and occupations/settings in the stories. So many more can be found at cozy-mystery.com, an online database for all things cozy!
When No One is Watching by Alyssa Cole. Gentrification gets (even more) sinister in this thriller, about a woman who is just trying to get her life together after the death of her mother…but her neighborhood seems to be changing overnight. There's got to be something behind it, but no one is talking. Conspiracy theories, classism, racism and more kept me riveted to my seat—it's a slow build, but the tension is there from the beginning and it slowly seeps within. Alyssa Cole is more known for her romance (I highly recommend anything she writes), but her foray into the thriller genre is absolutely page-turning.
Mexican Gothic by Silvia Moreno-Garcia. A socialite heads to the Mexican countryside to figure out what is going on with her cousin, and encounters a world of strange with her cousin's new in-laws. Since pretty much everything else that has been included on this list has contained fairly straightforward prose, you're probably wondering what the hell I'm doing with this one. First: I don't believe in pandering, and second, this is just meaty enough to sink your teeth into without feeling incredibly overwhelmed, and there's a tension that just builds throughout. Plus, everyone likes a creepy house story, right?
Literally anything by James Patterson. There's a reason why James Patterson takes up so much of any library's shelves—he's popular (and prolific) as hell. The chapters are short, the writing hits like a drug, the plots are always fast, and he leaves you wanting more, more, more (in a good way, I swear). I recommend him alongside writers like Janet Evanovich, Lee Childs, Dan Brown and David Baldacci—also super popular for a reason.
The Woman in Cabin 10 by Ruth Ware. A fast-paced thriller about a journalist invited on a week-long luxury cruise. Things start of luxe and wonderful until she witnesses a passenger being thrown overboard—but no one is missing from the ship. Hugely popular, with tons of twists and turns that'll keep readers riveted—plus, it joins a host of other thrillers with similar titles (Woman in the Window, Girl on the Train), that are equally thrilling and scary all at once!
Nonfiction for the practical reader
Okay, so there are a number of reluctant (and regular!) readers out there who are just not into fiction. If they're reading, they want to maximize their time and learn something. That is completely okay!
However, so many nonfiction books on the "best of" lists (blah) are huge, weighty, and well, kinda dry in some cases, and a complete commitment in others. In addition to my recommendations, here's a list of 50 short nonfiction reads from Bookriot.
Atomic Habits by James Clear. Hustle culture is always making us want to level up, amiright? This book aims to help readers learn how to make tiny changes in order to achieve remarkable results in any sorts of life goals. Leadership and habit-changing books are always popular for people looking to improve themselves (aren't we all), and can be a selling point for a reluctant reader who wants to get into reading and learn something. I also recommend The Subtle Art of Not Giving a Fuck by Mark Manson, Start With Why by Simon Sinek, You Are a Badass by Jen Sincero and Can't Hurt Me by David Goggins.
Barracoon by Zora Neale Hurston. A history of the last transport ship of enslaved persons to the United States—fifty years after the practice was outlawed, told to Hurston by the last surviving member of the journey. Hurston made the decision to transcribe much of Cudjo's words into his vernacular, preserving his way of speech and narrative. It's a short, brutal and compassionate look at the lives of enslaved persons, and the legacy of this great crime to humanity.
Helmet for My Pillow by Robert Leckie. Trip and fall anywhere in a bookstore, and I'll almost guarantee that you'll tumble into a WWII book. Either nonfiction or historical fiction, there is this fascination with this era (I am not immune) that does not quit. So where the hell to even begin?? Helmet For My Pillow is the memoir of a young Marine from Parris Island to the brutal island-hopping campaigns in the Pacific, and has been on the USMC Commandant's Reading List for quite some time.
Educated by Tara Westover. A memoir about a young woman growing up inside a survivalist cult in rural Idaho, and her desire to get away and find a formal education for herself—and the struggles of adapting to "normal" society and life after leaving her family. It's written in engaging and pull-no-punches prose, and is an absolutely fascinating insight into the lives of those within extreme religious groups.
Crying in H Mart by Michelle Zauner. A memoir by the singer of Japanese Breakfast on growing up Korean-American in Eugene, Oregon (one of the whitest cities in the US and my hometown), her relationship with her mother. Throughout it all is a love-letter to family, tough bonds between parent and child, and the ways culture and food seep into the soul to the point where going to a grocery store can trigger feelings. It's a beautifully written book of life, and I just realized that pretty much all of these nonfiction selections are serious as hell. Remember Jenny Lawson? Ha! One nonfiction book that's fun!
Literary loves, classics and historical fiction
Surprisingly enough, this section isn't all the boring ass dry fiction we were forced to read in high school (and college)…although I feel that a lot of those books get a bad rep because of how soul-suckingly they were taught. However, literary fiction is a thriving genre, and the classics are getting a huge boost from bookish social media (yeah Gen Z!), and historical fiction is always super popular (there are so many WWII novels out there if that's your thing).
So here's a little mix from this mixed up section of genres! Also, check out Buzzfeed's 17 Historical Fiction Books That Will Immerse You in Another Era, and Modern Mrs Darcy's 15 Literary Novels (not gonna lie there are some books that are commonly seen on US high school required reading lists)
The Night Watchmen by Louise Erdrich. A story of life on the rez in the 1950s, inspired by Louise Erdrich's grandfather. The novel is about several members of the Chippewa community in North Dakota as they grapple with lif and society while the United States government and its colonizer citizens look to find ways to terminate the treaties made to Native American communities. It won the 2021 Pulitzer Prize for fiction (don't be intimidated, I swear!), and has beautiful writing, engaging characters and a narrative that will not quit.
An American Marriage by Tayari Jones. An intimate look at the lives of three people—Celestial, Roy and Andre—trapped within the binds of love, marriage and the American prison system. Both witty and touching and hopeful, with rich characters and lots of internal and external conflict sure to keep readers engaged long after the last page has been turned.
Little Fires Everywhere by Celeste Ng. A look into the world of suburbia, complete with housewives, tenants and transracial adoption, oh my! The book explores the secrets kept behind closed doors and inside a person's head, along with the pull of motherhood and believing that following the rules will keep everything all right. This is hugely popular, due to its storyline, characters and beautiful writing.
Seven Husband of Evelyn Hugo by Taylor Jenkins Reid. This has been a darling of bookish social media pretty much since its release in 2017 and there's plenty of good reasons why! There's old Hollywood secrets and drama, a rip-roaring storyline of twists and turns, and a main character so morally grey you just can't help but love to hate her and hate to love her. Yes, it's a crying book, but dammit it's worth it.
The Picture of Dorian Grey by Oscar Wilde. And here it is, the lone "classic" book on this list. While there are quite a few classics on reluctant reader lists, most are books that are on high school required reading lists, and I don't know that Dorian Grey is on a lot (maybe some, if you're lucky). However, this is the book that caused quite the scandal upon publication for its "corrupting influence," which is intriguing even without the fact that it's a Gothic horror novel about a young man who never ages (but has a picture that does), and the price paid for eternal youth and beauty. This is a gateway book to other classics like Moby Dick and The Count of Monte Cristo, which are amazing but absolute whales of tales (don't worry, the puns stop here).
Graphic Novels
Yes, graphic novels are absolutely reading! They count! And they can be incredibly helpful in engaging reluctant adult readers (break down those preconceived notions of reading!), because they link images with words, build empathy, and are generally pretty dang quick!
Giant Days by John Allison. The ultimate in addicting, heartwarming reads is this beloved comic series. It's about three college roommates and their unlikely yet unbreakable friendship as they battle college, adulting, and relationships. I love this series so much, and the three main characters and their often weird escapades are just hilarious. Plus, there are a lot of them, so there is plenty of time to enjoy this series (and it's completed so heyyyyyy).
Sapiens by Yuval Noah Harari. Did you know that there are nonfiction graphic novels? Yes, you can read comics and learn shit, and this graphic novel adaptation of Harari's famous Sapiens covers the dawn of humanity in a comprehensive yet accessible way. He doesn't dumb anything down, but he approaches high level concepts and history in a manner that is easy to understand and thrilling to read. Learning, the fun way!
The White Donkey by Maximilian Uriarte. Uriarte is the creator of the ever popular Terminal Lance comic strip, which captures the pulse of junior enlisted in the Marine Corps while also being very funny and insightful. This comic is his debut, about the surreal experiences of an infantry Marine in Iraq. It's funny, it's somber, and it's well worth the read if you're looking for a non uber-patriotic look into the life of a military servicemember.
For heartwarming and cute reads, look no further than these three graphic novels. They're filled with queerness, baking (well, two of the three), and growing up in a world that can be both confusing and incredibly accepting. These are a delight and dear comfort reads, and I feel that since most o fthe books in this post got real serious real fast, we all might need something that feels like a hug. I know I do. The books:
Heartstopper by Alice Oseman
Mooncakes by Suzanne Walker
Check, Please! by Ngozi Ukazu
Science fiction and fantasy
Getting started in this genre can feel incredibly intimidating, and not just because the gate-keeping can be just…over the top. Not only do some people insist that a person must read the classics to really Get It, or invest in only hard science fiction, but others recommend fantasy books that are fucking tomes. You could easily brain a person with some of the books filled on a lot of the books on the beginner's lists, and quite frankly I'm going for enjoyable, fun and gateway books. Most folks don't just jump into a marathon after never running, right?
So let's try some fun standalones and quick-paced series before we dive into Sanderson, Corey, Jemisin and Martin, okay?
Dandelion Wine by Ray Bradbury (science fiction) and The Hobbit by JRR Tolkien (fantasy). I supposed I'd be remiss or something if I didn't include at least some classics. So here're two that have stood the test of time and are much beloved by readers. Many children discovered a love for SFF in these two classics, and they are great gateways for adults, too! I also recommend Terry Pratchett (for humor), John Scalzi (for dad reads that are nevertheless really engaging), and Mercedes Lackey (for the horse girls at heart).
The Warrior's Apprentice by Lois McMaster Bujold. Ha, you all thought you'd catch me on a list of book recommendation and not recommend my favorite author of all time? I wouldn't include it if I didn't think it was good for reluctant readers, but this has a little bit of everything: politics, coming of age, space mercenaries, goldfish eating and a main character with a dash of Napoleon syndrome and a whole lot of forward momentum. It's whacky, it's fast-paced, and it delves into serious subjects with a light touch.
Long Way to a Small, Angry Planet by Becky Chambers. This is a slice of life space opera about a rag-tag crew aboard a patched-up merchant ship on its way to deliver goods to a tiny, out of the way planet. It's found family in all its goodness, complete with a little romance, a lot of internal and external tension, and a lot of chaos and cozy all at once. It's Firefly in novel form without Joss Whedon's crap.
Inheritance of Orquidéa Divina by Zoraida Cordóva. The story of the Montoya family and the mysterious gifts they inherit from their strange grandmother, Orquidéa Divina. I was going to include The Night Circus by Erin Morgenstern, which is a book that crops up in a lot of recommendations for reluctant readers, but honestly I enjoyed Inheritance so much more! And the books are kinda similar—lush, gorgeous prose you can bask in, beautifully rich worldbuilding and mythos, and engaging characters that you want to cheer for and curse at.
Witchmark by CL Polk. Intrigue. Magic. Betrayal. Romance. And the most intense bicycle chase you'll ever read. In this gaslamp fantasy, a doctor at a military mental hospital is trying to save his patients and hide in obscurity…until his sister finds him and reminds him of his duties to the family. This is a lovely balance of humor and heavy political parallels, while also having soft and thrilling moments. It's the great start to a really well done fantasy trilogy. I was going to include Station Eleven by Emily St John Mandel in this list, but it involves a devastating plague pandemic that kills much of the population and after living through a pandemic, my desire to read about one is very low.
The Witcher Series by Andrzej Sapkowski. Look, there are a bajillion epic fantasy books out there, but most are incredibly long and twisty and super serious, and how many of those have television series staring a shirtless Henry Cavill? None of them, that's what. So read this series, which is a fantastic entry point into epic fantasy without being too overwhelming (there are elves and prophecies and dwarves and assassins and magic and shit), and then watch the Netflix adaptation and try not to drool.
The Martian by Andy Weir. This is the story of Mark Watney, one of the first people to step foot on Mars, and the first to die on Mars…unless he can survive in an inhospitable environment. Andy Weir perfectly captures the smart-assy sarcasm that carries this book through—which is quite a feat considering that it's mainly about one dude all alone on Mars, growing potatoes and living a pretty monotonous life of constant survival and science. However, this is funny, engaging, and absolutely thrilling, with clear writing that sucks you in and won't let go.
Young Adult is universal
Whew. This is aleady uh, 4,700 words and 35-ish books long? Yikes. I'll wrap up fast, no introduction just the list!
Okay, quick introduction: yes, adults can read YA! It's 100% okay and YA is a great way to suck in people looking to make reading a habit, as it often has clear prose, fast plots and easy-to-follow worldbuilding. Of course, YA is an age category and has many of the same genre as adult fiction. Here's the list:
Cinderella is Dead by Kalynn Bayron (fantasy)
Inheritance Games by Jennifer Lynn Barnes (mystery)
The Hunger Games by Suzanne Collins (science fiction)
Legendborn by Tracey Deonn (contemporary King Arthur)
Juliet Takes a Breath by Gabby Rivera (historical fiction)
Akata Witch by Nnedi Okorafor (contemporary fantasy)
Cemetery Boys by Aiden Thomas (contemporary fantasy)
Iron Widow by Xiran Jay Zhao (science fiction)
Really though, getting a person hooked on reading is finding their niche, whatever that niche is, and that takes time and a conversation and open-mindedness on the part of the recommender. Just because you adore SJM doesn't mean your buddy will—maybe their joy is sparked in Mafia Romance or Body Horror Thrillers or Amish Billionaires or Investment Nonfiction or True Crime. Who knows?
The joy in recommending is finding something that person loves.
What book made you love reading?