'Tis time for all things Spooky!
I don't know why, but I'm really feeling themed monthly TBRs for some reason! After Sci Fi September, which was liberally speckled with contemporary romance in addition to the SFF and seeing all of the awesomely spooktastic releases coming out in October and well, considering how weird the last 18 months have been, I want a month of pure escapism and weirdness.
Bring on the witches, dystopians, thrillers, killers and weird shit!
And the twenty-thousand Hocus Pocus reruns, which I will watch EVERY SINGLE TIME I SEE THEM!
Blurbs are from Goodreads.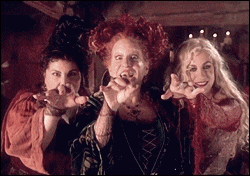 October TBR
Any Sign of Life by Rae Carson
Paige Miller is determined to take her basketball team to the state championship, maybe even beyond. But as March Madness heats up, Paige falls deathly ill. Days later, she wakes up attached to an IV and learns that the whole world has perished. Everyone she loves, and all of her dreams for the future—they're gone. But Paige is a warrior, so she pushes through her fear and her grief. And as she gets through each day—scrounging for food, for shelter, for safety—Paige encounters a few more young survivors. Together, they might stand a chance.
The Final Girl Support Group by Grady Hendrix
In horror movies, the final girl is the one who's left standing when the credits roll. The one who fought back, defeated the killer, and avenged her friends. The one who emerges bloodied but victorious. But after the sirens fade and the audience moves on, what happens to her? Lynnette Tarkington is a real-life final girl who survived a massacre twenty-two years ago, and it has defined every day of her life since. And she's not alone. For more than a decade she's been meeting with five other actual final girls and their therapist in a support group for those who survived the unthinkable, putting their lives back together, piece by piece. That is until one of the women misses a meeting and Lynnette's worst fears are realized–someone knows about the group and is determined to take their lives apart again, piece by piece.
Nothing by Blackened Teeth by Cassandra Khaw
A Heian-era mansion stands abandoned, its foundations resting on the bones of a bride and its walls packed with the remains of the girls sacrificed to keep her company. It's the perfect wedding venue for a group of thrill-seeking friends. But a night of food, drinks, and games quickly spirals into a nightmare. For lurking in the shadows is the ghost bride with a black smile and a hungry heart. And she gets lonely down there in the dirt. 
Gilded by Marissa Meyer
Long ago cursed by the god of lies, a poor miller's daughter has developed a talent for spinning stories that are fantastical and spellbinding and entirely untrue. Or so everyone believes. When one of Serilda's outlandish tales draws the attention of the sinister Erlking and his undead hunters, she finds herself swept away into a grim world where ghouls and phantoms prowl the earth and hollow-eyed ravens track her every move. The king orders Serilda to complete the impossible task of spinning straw into gold, or be killed for telling falsehoods. In her desperation, Serilda unwittingly summons a mysterious boy to her aid. He agrees to help her… for a price. Love isn't meant to be part of the bargain.
Terciel & Elinor by Garth Nix
In the Old Kingdom, a land of ancient and often terrible magics, eighteen year-old orphan Terciel learns the art of necromancy from his great-aunt Tizanael. But not to raise the Dead, rather to lay them to rest. He is the Abhorsen-in-Waiting, and Tizanael is the Abhorsen, the latest in a long line of people whose task it is to make sure the Dead do not return to Life. Across the Wall in Ancelstierre, a steam-age country where magic usually does not work, nineteen year-old Elinor lives a secluded life. Her only friends an old governess and an even older groom who was once a famous circus performer. Her mother is a tyrant, who is feared by all despite her sickness and impending death . . . but perhaps there is even more to fear from that.
Vespertine by Margaret Rogerson
Artemisia is training to be a Gray Sister, a nun who cleanses the bodies of the deceased so that their souls can pass on; otherwise, they will rise as spirits with a ravenous hunger for the living. She would rather deal with the dead than the living, who trade whispers about her scarred hands and troubled past. When her convent is attacked by possessed soldiers, Artemisia defends it by awakening an ancient spirit bound to a saint's relic. It is a revenant, a malevolent being that threatens to possess her the moment she drops her guard. Wielding its extraordinary power almost consumes her—but death has come to Loraille, and only a vespertine, a priestess trained to wield a high relic, has any chance of stopping it. With all knowledge of vespertines lost to time, Artemisia turns to the last remaining expert for help: the revenant itself.
Final Girls by Riley Sager
Ten years ago, college student Quincy Carpenter went on vacation with five friends and came back alone, the only survivor of a horror movie–scale massacre. In an instant, she became a member of a club no one wants to belong to—a group of similar survivors known in the press as the Final Girls. Lisa, who lost nine sorority sisters to a college dropout's knife; Sam, who went up against the Sack Man during her shift at the Nightlight Inn; and now Quincy, who ran bleeding through the woods to escape Pine Cottage and the man she refers to only as Him. The three girls are all attempting to put their nightmares behind them, and, with that, one another. Despite the media's attempts, they never meet. That is, until Lisa, the first Final Girl, is found dead in her bathtub, wrists slit, and Sam, the second, appears on Quincy's doorstep. 
The Ex Hex Hex by Erin Sterlin
Nine years ago, Vivienne Jones nursed her broken heart like any young witch would: vodka, weepy music, bubble baths…and a curse on the horrible boyfriend. Sure, Vivi knows she shouldn't use her magic this way, but with only an "orchard hayride" scented candle on hand, she isn't worried it will cause him anything more than a bad hair day or two. That is until Rhys Penhallow, descendent of the town's ancestors, breaker of hearts, and annoyingly just as gorgeous as he always was, returns to Graves Glen, Georgia. What should be a quick trip to recharge the town's ley lines and make an appearance at the annual fall festival turns disastrously wrong. With one calamity after another striking Rhys, Vivi realizes her silly little Ex Hex may not have been so harmless after all.
What are you excited to read this month?