This Wednesday, All World Wayfarer released Issue X on their website, and included in this spooky magazine is my short story, "Terrible Tilly Hunts the Cadborosaurus." You can read Issue X for free here, however, if you'd like to support All Worlds Wayfarer and their pursuit to pay their authors for work, you can purchase the kindle edition for half the price of a Starbucks grande caramel macchiato here.
"Terribly Tilly" takes place in 1938 Newport, Oregon, and is about a widow with a ~mysterious past~ working for the Federal Writer's Project and moonlighting as a cryptid hunter.
Here are some behind the scenes research that went into this story!
Any errors in my research or portrayal of characters from various communities are my own.
Beware! Spoilers Be Past This Point!
The Federal Writer's Project
Tilly and her partner Adam work for the Oregon Writer's Program, part of the Federal Writer's Project that was wrapped up into the New Deal's Works Progress Administration (it was renamed in 1939 to Works Projects Administration), meant to employ out of work writers and other creatives on federal projects, one of which was the incredibly important life histories (collected folklore) and slave narratives.
Another project was a series of state travel guides meant to promote tourism throughout the states. I took a little creative license here partnering Tilly and Adam together as photographer and writer, but the areas they cover—and the waypoints mentioned—are included in the Oregon: The End of the Trail guide, which was published in 1940 and has some really cool historical factoids (although it does skimp heavily on Oregon's racist past and its horrific treatment of indigenous peoples).
Tilly and Adam check out the Yaquina Head Light, Jump Off Joe, The Devil's Punchbowl, and then explore the Yaquina Bay Bridge, Reedsport, Yachats kitchen middens, the Devil's Churn and the sea lion caves, which are all mentioned in the book (and all really cool things to check out if you're on the coast, by the way!).
I was feeling pretty smart when I found this guidebook while writing this short story in February, so imagine my shock when Smithsonian Magazine published an article in May on the very same thing my people were doing!
Newport, Oregon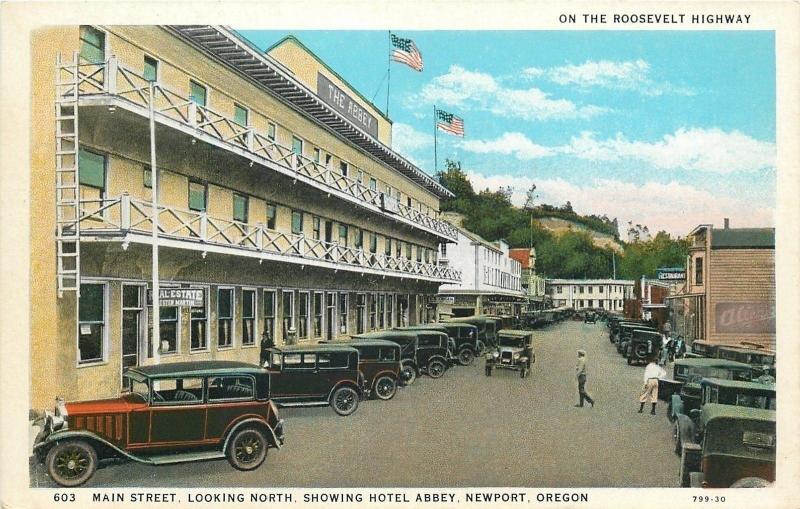 In 1938, Newport, Oregon, was still in the depths of the Depression, although it was a fishing town (and oyster hot spot) and a resort town. The Yacona peoples lived in the area for three thousand years before white Europeans arrived in the mid-19th century and forcibly moved the Yacona peoples into reservations. With the coming of the railroad in the late 19th century, Newport experienced a bit of a boom as a resort town, and later with the building of Highway 101 and later the Yaquina Bay Bridge. There were fancy hotels, a nice boardwalk along Nye Beach, taffy stores (yuck), murals and the Hotel Abbey (I took some creative licensing with the Hotel Abbey's location and quality of the food, but there was a very nice dining room). There was even a natatorium, which is an indoor swimming pool, and a number of resorts featuring indoor sea baths.
In the beginning of the story, Adam is trying to get Tilly to attend Newport's first ever Crab Festival, which actually happened—and a version of it is still going strong today in the Seafood and Wine Festival—on May 1, 1938. Over two thousand people flocked to Newport for the prospect of a free lunch (and to help boost tourism), and over 6,000 pounds of Dungeness crab were served.
Additionally, the newspapers Adam read (the Morning Oregonian and the Lincoln County Reader) would have both been conceivably issued and available on the days the intrepid duo were in Newport (in case you're wondering, May 1, 1938 was a Sunday). And the headlines of Hitler and Joe DiMaggio were actual headlines from the Morning Oregonian that week. As a first-generation child of a Jewish-German immigrant, Adam is rightfully concerned over those family members still in Germany, many of which would not have been able to escape Hitler's wrath as restrictions tightened and anti-Semitic hatred grew to a fever pitch. A coping mechanism is his fascination with American ghost stories.
The Yaquina Bay Light
The Yaquina Bay Lighthouse—not to be confused with the more famous Yaquina Head Light located five miles north—was built in 1871 and decommissioned in 1874 when the Yaquina Head Light came online, and it was used by the Coast Guard from the earlyish 1900s until 1933. Believed to be one of the oldest structures in Newport, in 1996 it was restored as a privately maintained navigation aid.
It is also rumored to be haunted!
According to legend, the lighthouse is haunted by the ghost of Muriel Trevenard, who was left behind by her father and his ship as they sailed south to California. She met up with some young folks, they explored the lighthouse (they found a mysterious door leading to the ocean), and she went back for her missing handkerchief and was never found again (neither was the door).
The rumors spring (primarily) from a story written in 1899 by Lischen Miller, and I heavily borrowed from this story-that-has-turned-into-legend for the basis of the haunted lighthouse.
Another lighthouse gets a mention in the story, the Tillamook Rock Light, or "Terrible Tilly," which is located about one mile offshore from the Tillamook Head in northwestern Oregon kinda close to the mouth of the Columbia River. It was active from 1881 to 1957, and is famous for being located on a very isolated rock and for being haunted, creepy and just all-around dangerous. I really, strongly advise against attempting to swim to it (the Oregon coast is incredibly dangerous in general, this place specifically).
Because the Oregon coast is so dangerous, there are a number of light houses, light ships, and life saving stations that were/are located in the state, and all have an interesting history. If you have a hoopla account from your library (or cash to spare or a really fantastic Libby ecollection) and a fascination with lighthouses and/or the Oregon coast, I recommend checking out Lighthouses and Life-Saving Stations on the Oregon Coast by David Pinyerd.
The Cadborosaurus, the PNW's sea cryptid
The Cadborosaurus, nicknamed Caddy, has been "spotted" up and down the coast of the Pacific Northwest for hundreds, if not thousands of years (there is Indigenous American folklore that has similar creatures), and although pretty much every attempt to photograph it or capture a specimen has either failed spectacularly or been debunked, it still is a source of fascination for crytopozoologists.
The Naden Harbour photo is the one Tilly is inspecting in the first bit of the story, and the cadborosaurus had been seen up and down the coast several times in the 1930s.
I ended up merging two PNW cryptids—Colossal Claude and Caddy—into one creature for this story, as both have relatively similar descriptions (although Caddy is usually spotted further norther in British Columbia and Washington and Colossal Claude was first seen in 1934 near the Colombia River lightship).
Cryptids are always fascinating to read about, although I always treat the stories with a heavy amount of skepticism, as does Adam, since he doesn't know the real reason Tilly is constantly gunning after a fake sea monster.
Tricksters and Dobharchú
I did say there would be spoilers, right??
The trickster in the story has dubious origins for a reason, although he could be one of the many Irish tricksters of lore. And, as he is a trickster of colonizers, he has taken some elements common in myths and legends from the Salish communities living along the Pacific coast and incorporated them into his own rules (not saying his name, taking human form only in specific times of the year). And, like any good adaptable trickster, he plays long-term games to torment people—and these games keep up with the current technologies.
Tilly is a dobharchú, which is an actual creature of Irish folklore, although not quite in the form that I've described, as she is more like an otter woman (kinda like a selkie but in otter form). The dobhar chu (roughly translated to water hound or hound of the deep), is a giant, half-dog/otter, half-fish creature that preys on human flesh and is super hard to kill. I wanted to play with the myth of the otter wife, a type of animal bride trapped into marriage (and human form) by the man who steals her pelt and keeps it from her.
Any errors in portrayals of these cultures are entirely my own. I am of Irish ancestry, but am not Salish (or Indigenous American).
Eccentrics and Eccentricity
While the psuedoscience cryptozoology has only had the term coined since the 1950s, monster hunters have existed for…a long time before that, and has a rather seedy (and often racist) background (just like the ancient alien theorists of today and the relic hunters of the past).
Anywho, on to eccentrics. How to be considered eccentric instead of crazy in two steps: 1) possess a fuckton of money, and 2) buck societal expectations and be really rich doing It. Easy peasy? Of course, there are exceptions, particularly as a woman, when the diagnosis of hysteria could lock an unruly woman up in a sanitarium. However, when as a widow or with a rather permission husband/father (since men basically ruled women in that time), a woman might be able to get away with it.
Adam has a pithy description of eccentrics in the story. The getting lost flying over the Pacific refers to Amelia Earhart, who famously disappeared over the Pacific near Howland Island in July 1937. She wasn't declared legally dead until 1939, however her disappearance made waves, just as her much publicized attempt to be the first woman to circumnavigate the globe.
And the gold telephones refers to Virginia Courtauld, an eccentric who lived in England and, along with her husband, refurbished Eltham Palace into a fabulous art deco style and hosted lavish parties in the midst of the Depression.
Gertrude Erdele was an American competition swimmer and the first woman to swim across the English Channel (in 1926).
And that's it! Unless there was something you wanted to know more about in the story, in which case, comment below!