Imagine me cruising through Goodreads and seeing an interesting image pop up over and over again. I love looking at cover trends, because they are just so fascinating. It's like that black snake that was everywhere a couple years ago—who decides these things? Is it planned across publishing houses, or something they do to try to one-up their competition, like Dreamworks and Disney back in the day.
Anywho, a recent trend seems to be *drumroll please*
Skulls!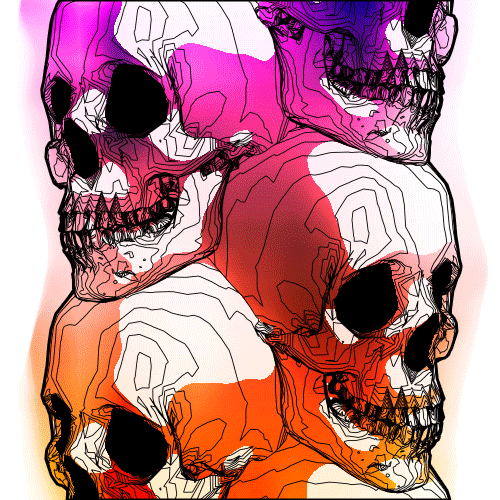 So many skulls, and so stylistic and filled with ~drama~ and flowers and mystery.
So here are some recent releases with skulls on the cover, arranged roughly by publication date. Blurbs are from Goodreads.
Bring on the Skulls!
Labyrinth Lost by Zoraida Cordova (2016)
Nothing says Happy Birthday like summoning the spirits of your dead relatives. Alex is a bruja, the most powerful witch in a generation…and she hates magic. At her Deathday celebration, Alex performs a spell to rid herself of her power. But it backfires. Her whole family vanishes into thin air, leaving her alone with Nova, a brujo boy she can't trust. A boy whose intentions are as dark as the strange marks on his skin. The only way to get her family back is to travel with Nova to Los Lagos, a land in-between, as dark as Limbo and as strange as Wonderland… 
If We Were Villains by ML Rio (2017)
Oliver Marks has just served ten years in jail – for a murder he may or may not have committed. On the day he's released, he's greeted by the man who put him in prison. Detective Colborne is retiring, but before he does, he wants to know what really happened a decade ago. As one of seven young actors studying Shakespeare at an elite arts college, Oliver and his friends play the same roles onstage and off: hero, villain, tyrant, temptress, ingenue, extra. But when the casting changes, and the secondary characters usurp the stars, the plays spill dangerously over into life, and one of them is found dead. The rest face their greatest acting challenge yet: convincing the police, and themselves, that they are blameless.
The Lantern's Ember by Colleen Houck (2018)
Five hundred years ago, Jack made a deal with the devil. It's difficult for him to remember much about his mortal days. So, he focuses on fulfilling his sentence as a Lantern—one of the watchmen who guard the portals to the Otherworld, a realm crawling with every nightmarish creature imaginable. Jack has spent centuries jumping from town to town, ensuring that nary a mortal—or not-so-mortal—soul slips past him. That is, until he meets beautiful Ember O'Dare. Seventeen, stubborn, and a natural-born witch, Ember feels a strong pull to the Otherworld. Undeterred by Jack's warnings, she crosses into the forbidden plane with the help of a mysterious and debonair vampire—and the chase through a dazzling, dangerous world is on. Jack must do everything in his power to get Ember back where she belongs before both the earthly and unearthly worlds descend into chaos.
Reign of the Fallen by Sarah Glenn Marsh (2018)
Odessa is one of Karthia's master necromancers, catering to the kingdom's ruling Dead. Whenever a noble dies, it's Odessa's job to raise them by retrieving their souls from a dreamy and dangerous shadow world called the Deadlands. But there is a cost to being raised–the Dead must remain shrouded, or risk transforming into zombie-like monsters known as Shades. If even a hint of flesh is exposed, the grotesque transformation will begin. A dramatic uptick in Shade attacks raises suspicions and fears among Odessa's necromancer community. Soon a crushing loss of one of their own reveals a disturbing conspiracy: someone is intentionally creating Shades by tearing shrouds from the Dead–and training them to attack.
The Bone Houses by Emily Lloyd-Jones (2019)
Seventeen-year-old Aderyn ("Ryn") only cares about two things: her family, and her family's graveyard. And right now, both are in dire straits. Since the death of their parents, Ryn and her siblings have been scraping together a meager existence as gravediggers in the remote village of Colbren, which sits at the foot of a harsh and deadly mountain range that was once home to the fae. The problem with being a gravedigger in Colbren, though, is that the dead don't always stay dead. The risen corpses are known as "bone houses," and legend says that they're the result of a decades-old curse. When Ellis, an apprentice mapmaker with a mysterious past, arrives in town, the bone houses attack with new ferocity. What is it that draws them near? And more importantly, how can they be stopped for good?
The Damned by Renée Ahdieh (2020)
Following the events of The Beautiful, Sébastien Saint Germain is now cursed and forever changed. The treaty between the Fallen and the Brotherhood has been broken, and war between the immortals seems imminent. The price of loving Celine was costly. But Celine has also paid a high price for loving Bastien. Still recovering from injuries sustained during a night she can't quite remember, her dreams are troubled. And she doesn't know she has inadvertently set into motion a chain of events that could lead to her demise and unveil a truth about herself she's not quite ready to learn. Forces hiding in the shadows have been patiently waiting for this moment for centuries. And just as Bastien and Celine begin to uncover the danger around them, they learn their love could tear them apart.
Opaque Melodies by Natalie Bennett (2020)
Alaric Schuyler. Enigmatic, cocky, and my new brother-in-law. He had cerulean blue eyes and a smile so beautifully devious it could entice the devil to do his bidding. We were never supposed to happen. One night changed everything, tying him and me together in a sordid twist of fate, trapping me in his dark, chaotic world. The lucid dreams and sick fantasies followed. He became the star of my nightmares, always lurking in the shadows, awakening dormant demons one esoteric melody at a time. I became his muse, a part of everything he did. He would be the death of me. And in the end, I wanted nothing more.
Kingdom of the Wicked by Kerri Maniscalco (2020)
Emilia and her twin sister Vittoria are streghe—witches who live secretly among humans, avoiding notice and persecution. One night, Vittoria misses dinner service at the family's renowned Sicilian restaurant. Emilia soon finds the body of her beloved twin… desecrated beyond belief. Devastated, Emilia sets out to find her sister's killer and to seek vengeance at any cost—even if it means using dark magic that's been long forbidden. Then Emilia meets Wrath, one of the Wicked Princes of Hell that she has been warned against in tales since she was a child. Wrath claims to be on Emilia's side, tasked by his master with solving the series of women's murders on the island. But when it comes to the Wicked, nothing is as it seems…
League of Liars by Astrid Scholte (February 2022)
Ever since his mother was killed, seventeen-year-old Cayder Broduck has had one goal–to see illegal users of magic brought to justice. People who carelessly use extradimensional magic for their own self-interest, without a care to the damage it does to society or those around them, deserve to be punished as far as Cayder is concerned. Because magic always has a price. So when Cayder lands a once-in-a-lifetime opportunity to apprentice under a premier public defender, he takes it. If he can learn all the tricks of public defense, the better he'll be able to dismantle defense arguments when he's a prosecutor. Then he'll finally be able to make sure justice is served.