A repost of this bad girl, because this month (and this move) has murdered my blogging abilities.
Sapphics in spaaaaaaaaaaaaaaaaace.
I am so happy with publishing over the past couple of years, because not only have there been quite a few wlw science fiction and fantasy releases, but many of them (well, the ones I read and go for) are ownvoices. No more cringey lesbians written by clueless white dudes (here's looking at you, John Ringo), although I do give thumbs up to John Scalzi, who gave me the foul-mouthed Kiva, who slipped fuck into as many parts of a sentence as she could and was just delightful.
Anywho, here are some books about sapphic women in space…and also across time. Because Keanu.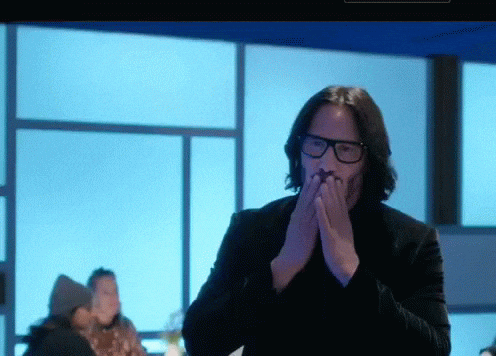 Blurbs, as always, are from Goodreads.
Space
The City in the Middle of the Night by Charlie Jane Anders (2019)
Humanity clings to life on January–a colonized planet divided between permanently frozen darkness on one side, and blazing endless sunshine on the other. Two cities, built long ago in the meager temperate zone, serve as the last bastions of civilization–but life inside them is just as dangerous as the uninhabitable wastelands outside. Sophie, a young student from the wrong side of Xiosphant city, is exiled into the dark after being part of a failed revolution. But she survives–with the help of a mysterious savior from beneath the ice.
Light From Uncommon Stars by Ryka Aoki (September 2021)
Shizuka Satomi made a deal with the devil: to escape damnation, she must entice seven other violin prodigies to trade their souls for success. She has already delivered six. When Katrina Nguyen, a young transgender runaway, catches Shizuka's ear with her wild talent, Shizuka can almost feel the curse lifting. She's found her final candidate. But in a donut shop off a bustling highway in the San Gabriel Valley, Shizuka meets Lan Tran, retired starship captain, interstellar refugee, and mother of four. As the lives of these three women become entangled by chance and fate, a story of magic, identity, curses, and hope begins, and a family worth crossing the universe for is found.
Of Wars, Memories and Starlight by Aliette de Bodard (2019)
Fourteen dazzling tales showcasing the richly textured worldbuilding and beloved characters that have brought de Bodard so much acclaim. Come discover the breadth and endless invention of her universes, ranging from a dark Gothic Paris devastated by a magical war; to the multiple award-winning Xuya, a far-future space opera inspired by Vietnamese culture where scholars administrate planets and sentient spaceships are part of families.
To Be Taught, If Fortunate by Becky Chambers (2019)
Ariadne is one such explorer. As an astronaut on an extrasolar research vessel, she and her fellow crewmates sleep between worlds and wake up each time with different features. Her experience is one of fluid body and stable mind and of a unique perspective on the passage of time. Back on Earth, society changes dramatically from decade to decade, as it always does. Ariadne may awaken to find that support for space exploration back home has waned, or that her country of birth no longer exists, or that a cult has arisen around their cosmic findings, only to dissolve once more by the next waking. But the moods of Earth have little bearing on their mission: to explore, to study, and to send their learnings home.
The City We Became by NK Jemisin (2020)
Every city has a soul, and every city's soul has the potential to be born. New York? Has five. But each time a city is born, a dark evil rises to defeat that birth—and over the millennia, more and more cities have failed to be born. New York might have five souls, but its avatars have got to work together to defeat this ancient evil. Manhattan, the Bronx, Brooklyn, Queens and Staten Island working together? Yeah, okay. As if that'll happen.
The Space Between Worlds by Micaiah Johnson (2020)
Multiverse travel is finally possible, but there's just one catch: No one can visit a world where their counterpart is still alive. Enter Cara, whose parallel selves happen to be exceptionally good at dying—from disease, turf wars, or vendettas they couldn't outrun. Cara's life has been cut short on 372 worlds in total. On this Earth, however, Cara has survived. So long as she can keep her head down and avoid trouble, Cara is on a sure path to citizenship and security. But trouble finds Cara when one of her eight remaining doppelgängers dies under mysterious circumstances, plunging her into a new world with an old secret.
The Vela by Yoon Ha Lee (2019)
In the fading light of a dying star, a soldier for hire searches for a missing refugee ship and uncovers a universe-shattering secret. Asala Sikou is used to looking after number one while crisis reigns in her dying planetary system. But when she's hired to find a missing refugee ship, she discovers that this is no ordinary rescue mission, and she must play a role in deciding the fate of the whole universe.
The First Sister by Linden A Lewis (2020)
First Sister has no name and no voice. As a priestess of the Sisterhood, she travels the stars alongside the soldiers of Earth and Mars—the same ones who own the rights to her body and soul. When her former captain abandons her, First Sister's hopes for freedom are dashed when she is forced to stay on her ship with no friends, no power, and a new captain—Saito Ren—whom she knows nothing about. She is commanded to spy on Captain Ren by the Sisterhood, but soon discovers that working for the war effort is so much harder to do when you're falling in love.
A Memory Called Empire by Arkady Martine (2019)
Ambassador Mahit Dzmare arrives in the center of the multi-system Teixcalaanli Empire only to discover that her predecessor, the previous ambassador from their small but fiercely independent mining Station, has died. Now, Mahit must discover who is behind the murder, rescue herself, and save her Station from Teixcalaan's unceasing expansion—all while navigating an alien culture that is all too seductive, engaging in intrigues of her own, and hiding a deadly technological secret—one that might spell the end of her Station and her way of life—or rescue it from annihilation.
Gideon the Ninth by Tamsyn Muir (2019)
The Emperor needs necromancers. The Ninth Necromancer needs a swordswoman. Gideon has a sword, some dirty magazines, and no more time for undead bullshit. Brought up by unfriendly, ossifying nuns, ancient retainers, and countless skeletons, Gideon is ready to abandon a life of servitude and an afterlife as a reanimated corpse. She packs up her sword, her shoes, and her dirty magazines, and prepares to launch her daring escape. But her childhood nemesis won't set her free without a service. Of course, some things are better left dead.
Sisters of the Vast Black by Lina Rather (2019)
Years ago, Old Earth sent forth sisters and brothers into the vast dark of the prodigal colonies armed only with crucifixes and iron faith. Now, the sisters of the Order of Saint Rita are on an interstellar mission of mercy aboard Our Lady of Impossible Constellations, a living, breathing ship which seems determined to develop a will of its own. When the order receives a distress call from a newly-formed colony, the sisters discover that the bodies and souls in their care—and that of the galactic diaspora—are in danger. And not from void beyond, but from the nascent Central Governance and the Church itself.
The Luminous Dead by Caitlin Starling (2019)
When Gyre Price lied her way into this expedition, she thought she'd be mapping mineral deposits, and that her biggest problems would be cave collapses and gear malfunctions. She also thought that the fat paycheck—enough to get her off-planet and on the trail of her mother—meant she'd get a skilled surface team, monitoring her suit and environment, keeping her safe. Keeping her sane. Instead, she got Em. Em sees nothing wrong with controlling Gyre's body with drugs or withholding critical information to "ensure the smooth operation" of her expedition. Em knows all about Gyre's falsified credentials, and has no qualms using them as a leash—and a lash. And Em has secrets, too . . .
Dead Space by Kali Wallace (March 2021)
Hester Marley used to have a plan for her life. But when a catastrophic attack left her injured, indebted, and stranded far from home, she was forced to take a dead-end security job with a powerful mining company in the asteroid belt. Now she spends her days investigating petty crimes to help her employer maximize its profits. She's surprised to hear from an old friend and fellow victim of the terrorist attack that ruined her life–and that surprise quickly turns to suspicion when he claims to have discovered something shocking about their shared history and the tragedy that neither of them can leave behind. Before Hester can learn more, her friend is violently murdered at a remote asteroid mine.
Time
This is How You Lose the Time War by Amal El-Mohtar and Max Gladwell (2019)
Among the ashes of a dying world, an agent of the Commandant finds a letter. It reads: Burn before reading. Thus begins an unlikely correspondence between two rival agents hellbent on securing the best possible future for their warring factions. Now, what began as a taunt, a battlefield boast, grows into something more. Something epic. Something romantic. Something that could change the past and the future. Except the discovery of their bond would mean death for each of them. There's still a war going on, after all. And someone has to win that war.
The Once and Future Witches by Alix E Harrow (2020)
In 1893, there's no such thing as witches. There used to be, in the wild, dark days before the burnings began, but now witching is nothing but tidy charms and nursery rhymes. If the modern woman wants any measure of power, she must find it at the ballot box. But when the Eastwood sisters–James Juniper, Agnes Amaranth, and Beatrice Belladonna–join the suffragists of New Salem, they begin to pursue the forgotten words and ways that might turn the women's movement into the witch's movement. There's no such thing as witches. But there will be.
Burning Roses by SL Huang (2020)
When Rosa (aka Red Riding Hood) and Hou Yi the Archer join forces to stop the deadly sunbirds from ravaging the countryside, their quest will take the two women, now blessed and burdened with the hindsight of middle age, into a reckoning of sacrifices made and mistakes mourned, of choices and family and the quest for immortality.
The Light Brigade by Kameron Hurley (2019)
The Light Brigade: it's what soldiers fighting the war against Mars call the ones who come back…different. Grunts in the corporate corps get busted down into light to travel to and from interplanetary battlefronts. Everyone is changed by what the corps must do in order to break them down into light. Those who survive learn to stick to the mission brief—no matter what actually happens during combat. Dietz, a fresh recruit in the infantry, begins to experience combat drops that don't sync up with the platoon's. And Dietz's bad drops tell a story of the war that's not at all what the corporate brass want the soldiers to think is going on.
The Future of Another Timeline by Annalee Newitz (2019)
1992: After a confrontation at a riot grrl concert, seventeen-year-old Beth finds herself in a car with her friend's abusive boyfriend dead in the backseat, agreeing to help her friends hide the body. 2022: Determined to use time travel to create a safer future, Tess has dedicated her life to visiting key moments in history and fighting for change. Tess and Beth's lives intertwine as war breaks out across the timeline–a war that threatens to destroy time travel and leave only a small group of elites with the power to shape the past, present, and future.
The Seep by Chana Porter (2020)
Trina Goldberg-Oneka is a fifty-year-old trans woman whose life is irreversibly altered in the wake of a gentle—but nonetheless world-changing—invasion by an alien entity called The Seep. Through The Seep, everything is connected. Capitalism falls, hierarchies and barriers are broken down; if something can be imagined, it is possible. Trina and her wife, Deeba, live blissfully under The Seep's utopian influence—until Deeba begins to imagine what it might be like to be reborn as a baby, which will give her the chance at an even better life. Using Seeptech to make this dream a reality, Deeba moves on to a new existence, leaving Trina devastated.
The Deep by Rivers Solomon (2019)
Yetu holds the memories for her people—water-dwelling descendants of pregnant African slave women thrown overboard by slave owners—who live idyllic lives in the deep. Their past, too traumatic to be remembered regularly, is forgotten by everyone, save one—the historian. This demanding role has been bestowed on Yetu. Yetu remembers for everyone, and the memories, painful and wonderful, traumatic and terrible and miraculous, are destroying her. And so, she flees to the surface, escaping the memories, the expectations, and the responsibilities—and discovers a world her people left behind long ago.
The Empress of Salt and Fortune by Nghi Vo (2020)
Angry mothers raise daughters fierce enough to fight wolves. A young royal from the far north is sent south for a political marriage. Alone and sometimes reviled, she has only her servants on her side. This evocative debut chronicles her rise to power through the eyes of her handmaiden, at once feminist high fantasy and a thrilling indictment of monarchy.
Have you read any of these?