Top Ten Tuesday was created by The Broke and the Bookish in June of 2010 and was moved to That Artsy Reader Girl in January of 2018. It was born of a love of lists, a love of books, and a desire to bring bookish friends together.
I didn't start reviewing most of what I read until a couple of years ago, when I was scrolling through my read shelf on Goodreads and looking at books and thinking did I really rate that four stars? I hated that (*camera slowly pans to anything SJM*). So I started writing reviews to capture why I rated books the way I did.
Most of these books are those that I rated 5 stars before 2016…where I wrote no reviews. I probably have no idea what they are about, since that was three years ago and I have the memory of a goldfish. But for funsies and for the sake of this week's theme I'm going to try to remember what the hell the book was about.
It'll be an archeological dig into my own mind.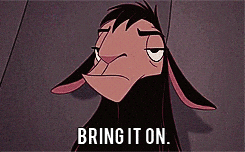 Read in 2017
Wild Magic by Tamora Pierce
Okay this one is a gimme since I've it probably 10 or more times since it was published. This is the first book in the second quartet of the Tortall series (follow the bouncing ball) and if you haven't read Tortall then what the hell why are you sleeping on these? They are incredible.
Read in 2016
The Emperor's Edge by Lindsay Buroker
This is another gimme, because I have also read this book several times. I love it. I love the found family aspect, the various personalities of each member of the Emperor's Edge, and I love Sicarius and Amaranthe's very slow burn romance. I used to buy up every single one of Lindsay Buroker's books as soon as they were released, and then somewhere along the line she started writing more romance-focused books and I lost interest. But I love this series with all my heart. It's definitely a fantastic indie series.
Salt to the Sea by Ruta Sepetys
I have no clue what this one is about. It's been four years. I don't remember what I read last week. It's something set in WWII with a really nasty ship sinking that lost a lot of people and it's heartbreaking. It's also fantastic without being tragedy porn. Highly recommend, although I can't remember what happened.
Orphan X by Gregg Hurwitz
Ya know, I honestly can't remember anything about this book other than the MC was weird as fuck and meditated each morning with GOOP-level products and rang a gong or something at the end of each meditation session. Why did I rate this five stars? What was I thinking? I bumped it down to three because from what I can remember there were things about it that annoyed the hell out of me, but past me enjoyed it?
The War That Saved My Life by Kimberly Brubaker Bradley
This is a MG found family book that is very popular. It's well written, documents the lives of two traumatized children living in poverty in London who are evacuated to the countryside during the Blitz to a spinster lesbian mourning the loss of her long-time partner. Trigger warnings for abuse, neglect and warfare. It is excellent, although for whatever reason I wasn't able to sink into the sequel, probably because it had been too long between books.
Outrun the Moon by Stacey Lee
I love love love Stacey Lee. Her writing style is fantastic, and she writes #ownvoices historical fiction about Chinese-American girls—which is not a topic that gets any publicity or attention or anything in publishing. I had to look at the Goodreads blurb for this one, because I thought it was Under the Painted Sky (also fantastic) but this one is about a girl who connives her way into a prestigious boarding school in San Francisco, and then the 1906 earthquake hits.
Read in 2015
Nerfertiti's Heart by AW Exley
I really enjoyed reading a lot of indie fiction, and then somehow I just kinda faded away from it? AW Exley was another of my favorites, and this was one of the first steampunk stories that I actually enjoyed, despite the overemphasis on corsets. This book has Egyptology, artifact hunting, a bitching plot and a romance (I think?). It's the first in a series. I keep meaning to read more of her stuff (she has a really fantastic Cinderella/zombie crossover set in post WWI England), and keep moving it to the backburner.
Puss in Boots by KM Shea
Awful cover aside, this is a series that is fun and fantastic (and that I didn't finish? Mainly because they were getting really drawn out). Anywho, this is book six in the Timeless Fairy Tales series, and while the first couple can be read as standalones (I need to reread the Cinderella one, which is really good), this one does have a lot of the other characters come in and start introducing a centralized plotline. If you like retold fairy tales, this is definitely a series to check out. Obviously I went through a bit of a fairy tale retelling streak (still love them, but am very picky).
Redshirts by John Scalzi
This was the book that taught me the word meta. It is very meta. Whatever that means (or in all of its meanings?). It's a parody of Star Trek with some really fun framing devices, and while I can't remember anything much of the plot other than you really do not want to be caught wearing a red shirt on an away mission, I do remember that it had something like four codexes or epilogues or whatever at the end that got weirder and weirder. See? This is why I write reviews now! So goldfish brain remembers the details!
Buffalo Gal by Bill Wallace
This last one is another gimme, since I have read this book well over 50 times (it was my second-favorite as a child—my first favorite was Beauty by the same author). It has everything. Horse races. Rattlesnakes. Texas Rangers. The unromanticized Old West. Toothbrushes. American Indians. Enemies to kinda lovers? Dutch ovens (the real kind). Alligators. Levis. One really hot dress. A spoiled teenage socialite stuck on an endless roadtrip through Texas to ~save the buffalo~. Like I said—everything.
What books do you love that you didn't write a review? Have you read any on my list?