One to Watch by Kate Stayman-London
🌺🌺🌺🌺/5
TW: Fat shaming, fatphobia, internet bullying
As a plus-sized blogger, Bea has worked hard to cultivate her brand and love her body—and she shamelessly loves Bachelor knock-off Main Squeeze. When her blog post criticizing the show's lack of diversity in every way goes unexpectedly viral, Bea is shocked and alarmed when she gets an offer to go on the show as its first plus-sized Main Squeeze. Desperate to both get over a hopeless crush and prove the world that fat girls deserve happily ever afters too, Bea agrees to go on the show—and the world may never be the same again.
I was pleasantly surprised by this! Although…Bea you did not with Chris Evans!
Yes, Chris Evans makes an appearance in this book.
And yet, this was not the reason I nearly gave this book five stars. It was charming, fun, gossipy (fuck I love the gossip) and featured my absolutely favorite castle in all of France, the Chateau de Chenonceau.
Fuck your Versailles. Screw Chambord. The Chateau de Chenonceau is where it's at. The place is gorgeous.
But I digress.
Definitely check out those trigger warnings for this one, because they are there for a reason. Yes, this book has a lot of fat-positivity and body-positivity in general, but Bea is put through the fucking wringer throughout the entire book. From microaggressions to outright discrimination and misogynistic comments and actions, she is body shamed and looked down on for being a plus-sized woman. She literally goes through hell and back to get her HEA.
"I just think you are so freaking brave."
"Thank you, Sheena, I appreciate that. But I don't think we should over-state what I'm doing here—I'm going on a reality dating show, not going off to war."
I absolutely loved Bea's wit, intelligence and fashion sense. She stuck up for herself (aside from the ever detestable Rob, but that's another story), and stuck up for her friends. And I loved her family, who low-key were brutal and loving and had her back every step of the way (her mom! And her brothers! Love them). Plus, her friends were just as fantastic and loyal, even if they thought she was crazy for going on a show where every contestant had been pretty much a size zero Hot Topic model. I also loved Alison, the head of wardrobe who was delighted to outfit her.
You're going to kick ass, okay? Just go out there and be brazen and bold and unapologetically yourself. Failing that, just smile and say you're ready for love.
I'll be honest—I've never really been into watching much reality TV. I enjoy the physical competitions like American Ninja Warrior and the artistic competitions like Crazy Delicious and that Neflix flower show, but aside from watching reality TV with my stepmom and dad twelve years ago, I can't say I've kept up. Although I do like reading about the various drama—and this book brings the drama of reality TV. If you find yourself breathlessly reading Jenna Guillaume's or Leslie Jones' live-tweets of well, anything, then this is definitely the book for you.
It also brings out the inherent pretending of going onto a TV show to fall in love—with all of the structure, the nonstop cameras and lack of privacy, the often exploitative contracts and non-disclosure agreements, and everything else. All while the main squeeze is attempting to whittle down their favorite person out of twenty-five contestants all jockeying for position.
I did love the final three contestants (the official final three, thank you), who were all perfect in their own way. I loved that they all fell in love with Bea, and she with them, and that they all stuck up for her out of genuine affection and good-heartedness, not because they were angling for a shot at staring in another reality TV show (fame does crazy things to people).
This book as a wealth of humor and pop-culture references (and fun parodies of pop-culture—my favorite being the fantasy Shakespeare crossover Whither the Werewolf?), in addition to being a great critique of the lack of diversity (particularly body diversity) of much of reality TV. Yes, there are often fat people on reality TV, but their inclusion is for laughs, for pitying, for judgement, for fitspiration, and rarely if ever for them getting their own spot of happiness without critiquing their weight.
Anywho, as per usual, this was a lot of me writing about nothing in general.
I will leave you all with one final quote, and if it doesn't convince you to pick it up (seriously, read it for the Chris Evans moment alone because— Chris Evans), then I don't know what will.
Watch as much Rosa Diaz as possible and become a queer woman so you never have to date men again!!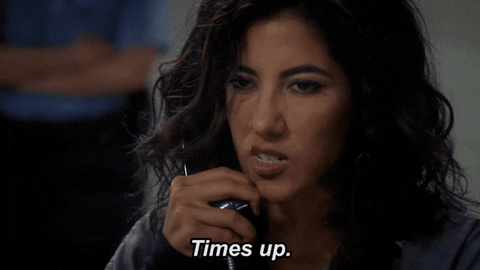 I received this ARC from NetGalley for an honest review.
One to Watch released July 7, 2020, from Dial Press.